Correspondence to:
eolas[at]kilkennycity.net

Copyright ©
ElmSoft 2014

Carlsberg Kilkenny Rhythm n' Roots Weekend
1st - 4th May 2009
See how good the 2003 , 2004 and 2005 weekends were.

If you like this you'll love The Desert Aces.

In the nine years since it first kicked off, the festival has hosted many an unforgettable gig by some of the most renowned acts in the world of roots music. Festival-goers talk of their delight at seeing well-loved performers play barnstorming shows in the intimate surroundings of the medieval city's pubs, as well as their surprise and pleasure at discovering new acts seemingly waiting around every corner to amaze them.

"One of the best coordinated and produced music events anywhere in the world, attracting the cream of blues, country and folk talent, irrelevant of birth place" -Mark Philips, Americana UK

"A utopian mix of Americana, alt-country and general roots-based music" -Gerry Quinn, No Depression.

"An event by and for music fans" -Tony Clayton-Lea, The Irish Times

"Without doubt, three days of heaven on earth" - Colm O'Hare, Hot Press.

"One is caught between the impulse to tell the rest of the world about it and or keep it as a guilty secret"- Nick Kelly, Billboard.

"The Kilkenny Roots Festival is an incredible festival, the intimacy of it is something that people should try to replicate around the world" - Joey Burns, Calexico.

Early booking is advised for all shows and early arrival at all venues is
recommended in order to avoid disappointment. Safety capacity restrictions
may apply to smaller venues.

Information and tickets upstairs at
Rollercoaster Records,
Kieran Street,
Kilkenny.
Phone 05677 94828.


---
Bands appearing at Kilkenny 2006: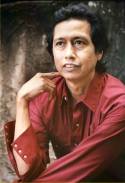 Alejandro Escovedo and his band Finally, we're proud to present in Kilkenny No Depression magazine's Artist of the Nineties. Ground zero punk rock dude with the Nuns, cowpunk progenitor in Rank and File, gutter-brawling guitar-rawker in the True Believers and Buick MacKane; he's the genuine Real Deal. ( US)
Chicago's Robbie Fulks is one of the more heralded talents in the alternative country movement, displaying an offbeat, often dark sense of humour. He moves effortlessly between the twang of his early work and a crunchier roots-rock hybrid, though he's returned to his roots with his latest opus Georgia Hard. A riveting live performer, you've just gotta be there. ( US)
Swank perform a genetically modified, all hoedown, corn-swillin', ass-kickin' unholy alliance of punk and country styles that go together like moonshine and mason jars. It's a mixture of guilt, guitars, gospel and guts executed with an almighty, footstompin' barroom belligerence. ( Canada)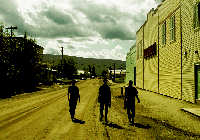 Elliott Brood call their music Death Country - dark, gritty folk music built around whiskey-drenched vocals and lyrics evoking images of love, loss and murder. Fans of the Handsome Family or Johnny Dowd need look no further, with the band's soul thumping songs, visceral Kentucky-hardcore acoustic guitar and sombre, achingly confessional vocal harmonies.( Canada)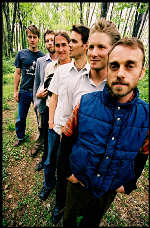 Hackensaw Boys Picture it, you're in Kilkenny and here's the Hackensaw Boys crammed onto a tiny stage, clustered in tight knots around three microphones, giving the show the feel of an old-time radio hour. Raucous young wildmen, they've opened shows for bands of the calibre of the Flaming Lips. You could call it bluegrass with a rowdy manic feel and you wouldn't be wrong. ( US)
Grayson Capps and his band- Grayson has a beer-stained voice that could only
have come from the New Orleans streets he calls his "Cannery Row". He's a
preacher, a poet, a singer, a guitarist and a supreme chronicler of the
American landscape. " Grayson Capps- he's f***ing awesome" Scarlett
Johansson -Variety.com ( US)
Corb Lund and the Hurtin' Albertans -They're a blazing roots-rock outfit,
serving up an acoustic, outlawish, punky brand of traditional country music
with wit and humour. Lund blends together a Western rodeo upbringing with a
decade on the indie rock scene with his previous group, the Smalls. (
Canada)
Gina Villalobos band has opened for artists as diverse as Frank Black, The
Breeders, Mary Lou Lord and Laura Veirs. This LA singer-songwriter's 2005
album has been described by BBC Radio's Bob Harris as a "contender for album
of the year". She will be touring her latest album as she plays in
Kilkenny.( US)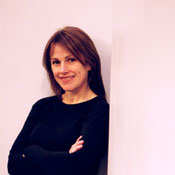 The Sharon Shannon - Widely regarded as one of the most gifted Irish musicians of her generation, she's part of the "new wave" of traditional musicians; Sharon Shannon has done more for the humble button accordion than perhaps anyone in the entire history of Irish music.
Deadstring Bros. Coming from the hard streets of Detroit, Michigan; spawning ground of Eminem and the White Stripes- but they couldn't be further removed musically. Think a gentler Rolling Stones, think a musically-edgier Gram Parsons, this is country-rock at its best.
Jeffrey Foucault. His world is a landscape of ghost horses and cowboy
elegies, weary lovers and leaving trains. An existential drive-in theatre
where memories and icons flicker across lowering skies. With the release of
' Strippin Cane', Jeffrey Foucault presents a collection of bright, spare
songs; an Americana tour bus that moves from Country Blues to Murder Ballad,
Twelve-Bar to Gospel. ( US)
Dustin Chance and the All-Nighters are California's latest hot rockin combo.
These boys from Fresno ( which includes Omar Romero on guitar) tear it up in
white lightnin' rockabilly style, it's wild-eyed, off the wall, a tad
unhinged with a touch of genius. Not for the faint hearted!
Rhythm 55 revive the good old sound of the fifties as close to the original
as possible. Rhythm 55 plays pure, stripped down; back to basics 50's style
Rockabilly, no drums, no fuss, just heartfelt music with the voice of an
angel. (Austria)
The King Louie Combo is that hepped-up meeting between country & western
music and early rhythm & blues, with a tip of the hat to Big Joe Turner and
Wynonie Harris. Kick off those creepers and get ready to rumble! (
Switzerland)
Cajuns Denbo are a six piece outfit from Wales who have established
themselves as the leading purveyors of the Cajun and Zydeco dance music
usually associated with south west Louisiana. What sets them apart is that
the band performs their material in their native Welsh language rather than
Cajun French. ( Wales)
Engine Alley are always featured in these ´Best of´ lists of Irish bands put
together by Irish rock compilers of CD's. These Kilkenny guys get together
for first official gig in many years. Expect all the old favourites with a
little Neil Young thrown in as well. ( Ireland)
The Wildcats of Kilkenny- With their twisted brand of Irish folk, they set
toes a tapping from the moment they stepped out on stage. It's a fiddle led
frenzied party and the band will enjoy bringing their infectious brand of
irreverent Irish music to Kilkenny.( UK)
Gentlemen Tim and the Contenders. This is Chicago-style Rhythm'n'Blues, hot,
sweet and rockin, just as it should be! Wailin' harmonica and vocals from
front man (and ex-Tipperary exile) Tim Corbett and well supported by
swinging guitar, pumping double bass with a dynamite shuffling backbeat! (
UK)
Niall Toner Band - Niall is a long-running stalwart of the Irish bluegrass
scene and an old favourite at Kilkenny. The NTB's debut CD, There's A Better
Way has garnered rave reviews, with Hot Press Magazine awarding it 9.5 out
of 10 ! The NTB run the gamut of acoustic Country styles, with a mix of
striking originals and classic covers, and always go down a storm. (Ireland)
Frankie Lane ( Guitar, Dobro and Vocals) and Paul Kelly (Violin and
Mandolin) are one of the best-known duos touring in Ireland at the moment.
What sets Frankie and Paul apart from other duos is the sheer scope of their
material. You'll hear Irish Traditional tunes and songs, American Folk,
Western Swing, Jazz, Classical, Bluegrass, and even a Gypsy number or two!
( Ireland)
Rough Deal String Band- Appalachian, cajun, traditional old-time American
country music and cowboy songs from the Tolka River Delta. What more could
you ask for? (Ireland)
Two Time Polka - Based in Cork, this band has a reputation for turning out
great live performances. Their first album "From Pana to Louisiana", which
comes soaked in the humid swampy heat of high summer Louisiana, received
buckets of praise. (Ireland)
Raglan Rodeo- Drawing on a wide influence of musical tastes from Bob Dylan,
Ryan Adams, Hank Williams & The Byrds to mention just a few and coupled with
some of their own material, it's bluesy country rock with a Cajun twist.
On the border and down the line from Louisa Bridge, Leixlip comes knife
edged guitar riffs and breathing hot delta accordion notes. The Rye River
Band is here to rip it up. Mississippi Music from Salmon Leap Country.
The Strats are a two piece from Monaghan, playing blues the old
fashioned way, with heart and love for the real thing. Their first CD
'Warrior Of The Night' is released on the Blues Matters label.
Check out the official site.
---
For accommodation information, please contact the Kilkenny Tourist Board on 056 775 1500. Or try our hotel and B & B listings.